Thursday, September 26, 2002
As if listening to his songs
isn't enough, here's another way to get into
Adam Duritz' mind
.
It's an online journal.
Wednesday, September 25, 2002
The congressman is going to jail
. Mark Jimenez just lost his "Get Out of Jail for Free" card. The Supreme Court recently
decided
to cancel his P1 million peso bail. The case involves the extradition proceedings instituted by the United States against Jimenez. Jimenez has been indicted for making illegal campaign contributions to Bill Clinton's election war chest.
And because I love John Cusack
, I'm asking you to vote
Cusack for President
.
Need I say more?
This just in
. I was checking out the new News service of
Google
when I came across this "movie quickie" from this
People in the news
section of
Seattlepi.com
:
Keanu Reeves and Carrie-Anne Moss will have a sex scene in next year's "The Matrix Reloaded," says World Entertainment News Network
.
Please say this isn't true.
Tuesday, September 24, 2002
Photo-op gone awry
. I work at a communications office of a university. An important part of my job is to cover events to be written about in the university's marketing and communication materials. When photographers are not around, I'm also obliged to step into their shoes to ensure that everything is documented.
I recently covered a ribbon-cutting ceremony for an exhibit. Because of last-minute arguments between me and the digital camera, this was all I was able to take.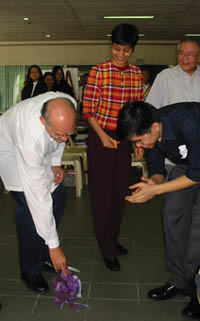 Wait 'til my boss sees this.
posted 3:32 PM

Monday, September 23, 2002


And I just realized
that I've been posting here
everyday
(!!!) for the past week when I still haven't done any of the following for school:
1. Write my paper for my Legal Theory class.
2. Study for my Legal Theory finals this Saturday.
3. Digest 70++ cases for my Property class.
4. Digest 20++ cases for Constitutional Law 1
5. Submit 4 projects for my Legal Bibliography class.
I just realized
that it's so unfair for bosses to ask us paid hacks to see our jobs as "not just a job" when they only see us as "just paid hacks" that they can manipulate to their liking. As the character of Cuba Gooding Jr. in Jerry Maguire kept on insisting, "I'm not seeing some love."
Love me a little and maybe I'll invest some love into my work too.
Sunday, September 22, 2002
The truth
is that I'm not that big of a literary or culture type, although I like to delude myself that I am. I don't really dig paintings, and I don't understood what good composition actually means. Although I look at people who read Johanna Lindsey with disdain, the truth is:
1. I just hate DH Lawrence.
2. The first ten pages of Moby Dick always puts me to sleep. I've been trying to read it for this but I haven't gotten past page 10.
3. I don't understand Thomas Pynchon and I think he's full of crap.
4. And I haven't read anything by Shakespeare all the way to the end.
Archives
&copy WHO CARES ABOUT COPYRIGHT? Please ask me though before you use my stuff. Linking is free.