Barefoot in Manila
Fishing for compliments. Complimenting for fish. It's a life.
Monday, September 30, 2002
Oasis. In Manila. One night only. For real.
.: posted by cecille 10:08 AM
Thursday, September 26, 2002
As if listening to his songs isn't enough, here's another way to get into Adam Duritz' mind.
It's an online journal.
.: posted by cecille 10:04 AM
Wednesday, September 25, 2002
The congressman is going to jail. Mark Jimenez just lost his "Get Out of Jail for Free" card. The Supreme Court recently decided to cancel his P1 million peso bail. The case involves the extradition proceedings instituted by the United States against Jimenez. Jimenez has been indicted for making illegal campaign contributions to Bill Clinton's election war chest.
.: posted by cecille 12:55 PM
And because I love John Cusack, I'm asking you to vote Cusack for President.
Need I say more?
.: posted by cecille 12:55 AM
This just in. I was checking out the new News service of Google when I came across this "movie quickie" from this People in the news section of Seattlepi.com: Keanu Reeves and Carrie-Anne Moss will have a sex scene in next year's "The Matrix Reloaded," says World Entertainment News Network.
Please say this isn't true.
.: posted by cecille 12:32 AM
Tuesday, September 24, 2002
Photo-op gone awry. I work at a communications office of a university. An important part of my job is to cover events to be written about in the university's marketing and communication materials. When photographers are not around, I'm also obliged to step into their shoes to ensure that everything is documented.
I recently covered a ribbon-cutting ceremony for an exhibit. Because of last-minute arguments between me and the digital camera, this was all I was able to take.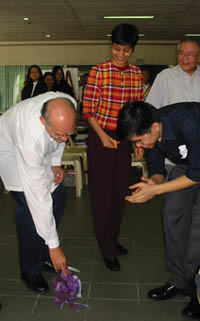 Wait 'til my boss sees this.
.: posted by cecille 3:32 PM
Monday, September 23, 2002
And I just realized that I've been posting here everyday(!!!) for the past week when I still haven't done any of the following for school:
1. Write my paper for my Legal Theory class.
2. Study for my Legal Theory finals this Saturday.
3. Digest 70++ cases for my Property class.
4. Digest 20++ cases for Constitutional Law 1
5. Submit 4 projects for my Legal Bibliography class.
.: posted by cecille 6:36 PM
I just realized that it's so unfair for bosses to ask us paid hacks to see our jobs as "not just a job" when they only see us as "just paid hacks" that they can manipulate to their liking. As the character of Cuba Gooding Jr. in Jerry Maguire kept on insisting, "I'm not seeing some love."
Love me a little and maybe I'll invest some love into my work too.
.: posted by cecille 6:27 PM
Sunday, September 22, 2002
The truth is that I'm not that big of a literary or culture type, although I like to delude myself that I am. I don't really dig paintings, and I don't understood what good composition actually means. Although I look at people who read Johanna Lindsey with disdain, the truth is:
1. I just hate DH Lawrence.
2. The first ten pages of Moby Dick always puts me to sleep. I've been trying to read it for this but I haven't gotten past page 10.
3. I don't understand Thomas Pynchon and I think he's full of crap.
4. And I haven't read anything by Shakespeare all the way to the end.
.: posted by cecille 8:20 AM
Saturday, September 21, 2002
Counting Crows cliches or stuff they always put in their songs (No particular order):
1. going home or leaving
2. the rain
3. Elizabeth
4. time wasted/time passing
5. the atmosphere/sky
6. dreams
7. sleeping
8. being alone
9. friends going/friends leaving
10. wanting to be something
.: posted by cecille 12:46 PM
Friday, September 20, 2002
It's old but you can still read it. It's a blog by His Excellency The Shrub.
.: posted by cecille 4:47 PM
A downward spiral is where I'm about to go off to. And the bloody Counting Crows album I bought is what's giving me this fucking depression.
.: posted by cecille 3:54 PM
It's Friday again and here's the friday five.

1. Would you say that you're good at keeping in touch with people?
I think so. I usually call friends up and end up talking about heppy memories (which is pathetic!). I'm usually the one who keeps up with what's happening to people so I can update others about them (even more pathetic actually!).

2. Which communication method do you usually prefer/use: e-mail, telephone, snail mail, blog comments, or meeting in person? Why?
I like to use the phone. I love e-mail too. As for meeting people in person, I only do that with people I like.

3. Do you have an instant messenger program? How many? Why/why not? How often do you use it?
I used to have the works: AOL, MSN, Yahoo, ICQ, and some other thing whose name I currently can't remember. Now I only use ICQ and I use it sparingly.

4. Do most of your close friends live nearby or far away?
Most of them live nearby but I never get to see them because I'm busy with school and work.

5. Are you an "out of sight, out of mind" person, or do you believe that "distance makes the heart grow fonder"?
I think it depends on who the person we're talking about is. I'm always in the "out of sight, out of mind" mode about people at work, not because I hate them but because I see them everyday as it is and I think it's a bit too much to still be thinking about them when I'm elsewhere. I'm in the "absence makes the heart grow fonder" mode with the friends I made in college. Mostly though, I'm an "out of sight, out of mind" person because I'm not the sentimental and caring type.
.: posted by cecille 2:55 PM
Close your eyes when you're watching John Mayer sing. Trust me, the experience will be a lot better. He does something weird with his lips when he's singing and it (the lip action) makes him look like a pouting duck (if there's such a thing). It does not look good at all.
.: posted by cecille 9:24 AM
Thursday, September 19, 2002
Bad trip. I didn't catch the movie. Apparently, it was already moved to the Cultural Center of the Philippines, which was two hours (because of the traffic) away from the Shangri-La Plaza Mall (where I went). This experiences reinforces the importance of reading the fine print.
PS, if you saw a lunatic running toward Shangri-La yesterday at about 6:00 pm, that was me.
.: posted by cecille 9:05 AM
Wednesday, September 18, 2002
And what's more, I'll be seeing Masanobu Ando, my favorite Japanese actor. I think he's the lead actor in the movie.

.: posted by cecille 9:58 AM
Time off from school. I'll be doing something really irresponsible tonight: I'm sneaking out of school to watch Adrenaline Drive.

Read the review here.
.: posted by cecille 9:50 AM
Monday, September 16, 2002
Something for the ears. I'm currently listening to Belle and Sebastian's This is just a modern rock song and Ben Lee's Tornadoes at work. These songs make the fact that I'm just here slaving away a bit more bearable.
.: posted by cecille 1:12 PM
Friday, September 13, 2002
Happy talk. A measure of happiness has come my way with the recent purchase of three cds on sale for just P100--a little under $2.

.: posted by cecille 9:39 AM
Monday, September 09, 2002
Really smoky is what John Mayer's voice is.
.: posted by cecille 1:47 PM
Sunday, September 08, 2002
Good news. The preservation of Laguna de Bay being cited as an example if global best practice during the Living Lakes conference in South Africa is something to crow about.
.: posted by cecille 7:43 AM
War talk. It's just so cozy how Bush and Blair are going about their war-mongering. Sure, you should attack Iraq. Never mind if this becomes a full scale global war. Never mind if this brings about the death of thousands of people.
And all the while, they're giving the orders to maim and kill from the posh comfort of their presidential mansions
.: posted by cecille 7:37 AM
The US Team bites the dust and I'm deliriously happy. I think this is the beginning of the end of an era. Watch the stars fall off from the star-spangled banner one by one. It may take some time but we're gonna get there. Read about them lose.
.: posted by cecille 7:25 AM
Friday, September 06, 2002
A true-blue online sport? Here's an excerpt from SearchDay about Google Whacking:

A New Sport for Searchers: Googlewhacking
And now for something completely different: 'Googlewhacking' is a new competitive sport that tests both your searching skills and your mastery of language -- and it's catching on like wildfire!
Google's index of web pages is generally regarded as the largest of all the major search engines. This means that for most searches, it's not uncommon for Google to report millions or even tens of millions of pages containing your search terms.
On the opposite end of the spectrum, however, there are combinations of keywords that return only one single result on Google. Web entrepreneur, online commentator and gadfly Gary Stock is obsessed with finding these combinations. So much so that he's created a game, complete with rules, that he calls "Googlewhacking."

Click here for more.
.: posted by cecille 4:36 PM
Something I found. Neal Pollack has a blog, and it's
here. Now if only I can remember who the hell he is.
.: posted by cecille 12:42 PM
Tuesday, September 03, 2002
Good news. I just wanted to give a shout out of sorts to the members of the Manila Police. Apparently, they really do catch criminals sometimes.
My brother's friend lost our digital camera over the weekend. She said that she got mugged along Recto Avenue, right in the heart of Manila, while she was going home. I gave the camera up for lost when I heard the news. Turns out she decided to do something about it. I think she reported the incident to the police.
My brother told me this morning that the police caught the culprit and they recovered the camera. He was trying to fence it for P300 when he was caught. The stupid thing was that he couldn't even lie about getting the camera because he apparently took lots of pics of him and his family and these were still in the camera. What a dork. What can you expect? If he were a genius, he wouldn't be making his living mugging people right?
And to think he was fencing the camera for just P300. That's just a little under $6. He's not doing any market research.
Now that the camera is back where it belongs, I might just be able to take pics of the bar operations this weekend to share with you.
.: posted by cecille 5:47 PM
All night long is how long I've been up the past Saturday. I was helping out friends who were taking their bar exams this weekend. One weekend down, three more to go. My friends tells me not to ask her about what went on inside her head and inside the room while she was taking the exams.
Noted. I'm keeping my mouth shut.
.: posted by cecille 5:40 PM
Monday, September 02, 2002
Hey! You might want to check this out.
.: posted by cecille 9:14 AM